Author and Fly Fisherman
Charles R. Meck



Just wanted to let everyone know that on June 16th from 11 am to 3 pm I will be signing books at the Spruce Creek Bakery located in the village of Spruce Creek, PA. Please come out and join me! (The address is 5448 Isett Road (Rt. 45), Spruce Creek, PA 16683)

For all news and updates on books and more... like me on Facebook!
Like me on Facebook here!

Check out the famous Patriot Fly on eBay!
Patriot Fly For Sale Click Here



This book has been on the market for 3 months now:
Matching Hatches Made Easy
Paperback Price- $14.95

Stackpole Books Website-
Purchase Book Here!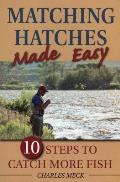 ---
Charles R. Meck, a lifelong Pennsylvania resident and the author of several successful books on fly-fishing, has fished virtually every trout stream in the state of Pennsylvania. He has also fished throughout the Mid-Atlantic States, Arizona and New Mexico.
When he is not fishing, he is writing, teaching or speaking. His numerous works include the third edition of Trout Streams and Hatches of Pennsylvania, Arizona Trout Streams and Their Hatches, Mid-Atlantic Trout Streams and Their Hatches, Fishing Small Streams with a Fly Rod, and Meeting and Fishing the Hatches. His nation wide public appearances include book signings, seminars, work shops and Fly Fishing shows.
He lives in Pennsylvania Furnace, Pennsylvania and spends his winters fishing out of Mesa, Arizona.
---
---
35-70% off all items at Sierra Trading Post!

This Fly Fishing Loop site is owned by Charles Meck.
[ Prev | Skip It | Next 5 | Random | Next ]

Additional Links
fly fishing, fishing & hunting we have hundreds of books videos and dvds on outdoor sports and recreation fishingandhuntingbooks.com your on line supplier for outdoor media
This site designed and maintained by
Charles Meck and
Dr. Corey Leonhard,
WebFocusPros.com
© 2002 - 2005 all rights reserved.